Good Morning!
We are so sad we had to postpone the community job fair a couple weeks ago, however, we have compiled a list of job openings for some of the local businesses who were going to be participating!
Job Openings:
LMC Manufacturing•Press Brake Operators, Laser Operators, Welders
American Peanut Growers Group (APGG)
Dairy Queen
Burke, Worsham & Harrell
Express Employment Professionals•CDL Yard Drivers, Sewing Machine Operators, Order Pullers – must be able to read a ruler, Machine Operators – multiple types, Drafter, Customer Service Representatives w/ good computer skills, Cutting Table Associates, Logistics Support Specialist, Garage Door Installation Helper, Fabrication Floater, Project Management Administrator, Document Control Clerk, General Laborers – Agriculture Forklift Drivers, Hydroblaster
ASPIRE Behavioral Health•Human Services Technicians (Full Time and Part Time)
Donalsonville Hospital/Behavioral Health•Nurses & more!
Bainbridge Probation Substance Abuse Treatment Center
Shaw Industries
Primary Care of Southwest Georgia
Elberta Logistics •Commercial Truck Drivers with a valid class A license
Miller County Hospital Authority•RN's, RT's, LPN's, CNA's, Student Interns, Medical Coders and Billers, Maintenance Technicians, Internal Analysts, Accounting Assistant & more!
Seminole County Board of Education•Substitute Teachers, Bus Drivers
Clover Leaf Gin, Inc.
Check out their websites or give them a call!
*We will reschedule the job fair for a later date. We will let everyone know when that date will be.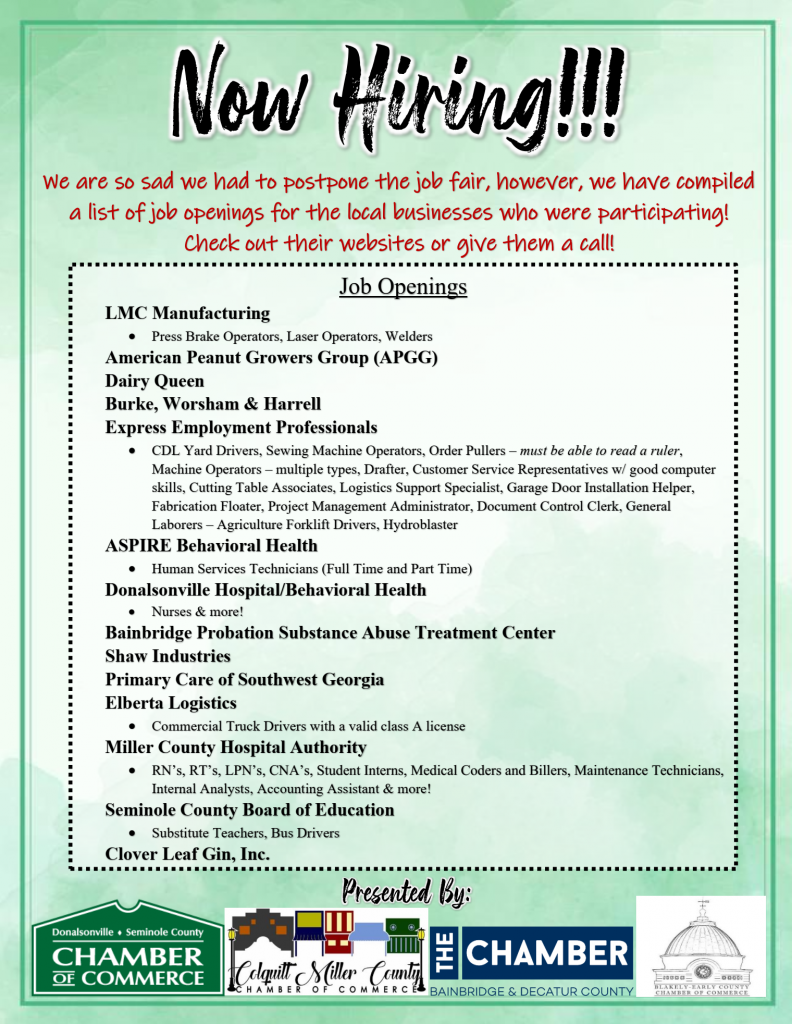 Last modified: August 23, 2021