Hospital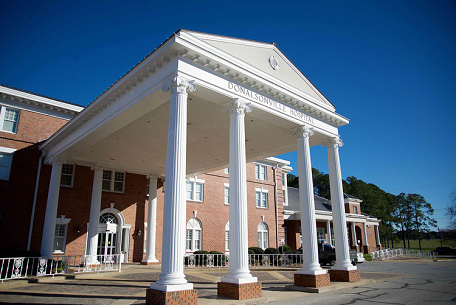 Located in Donalsonville, Georgia Donalsonville Hospital is a well-respected, highly ranked non-profit 65 bed hospital that strives to improve the quality of patient care and access to healthcare for the community.
100 Years of Healthcare
For more than 100 years Donalsonville Hospital and those who worked inside have been bringing much-needed healthcare to the community.
1918 – 1939 it was operated as "Chason's Hospital" by Dr. Thomas Chason, who was born here in Donalsonville in 1872. Dr. Chason was dedicated to bringing quality healthcare to this rural area of Georgia. He was known to have admitted and cared for many people who were unable to pay their bills. He also gave and paid for numerous Donalsonville women to become nurses at a time when jobs were scarce.
In 1939, Brantley Jenkins, Sr. and Harry B. Baxley purchased the hospital form Dr. Chason and after returning from WWII they renamed it Donalsonville Hospital. They added formally trained staff and updated the technology, equipment, and procedures from what they had learned in the war.
In 1965, Dr. Homer Breckenridge Jr., Dr. Charles C. Stewart, and Dr. Wilton Reynolds became the owners of Donalsonville Hospital. In 1976, Dr. Breckenridge was the driving force behind obtaining the funds to enlarge the hospital and continue the growth. In 1980, they generously donated the building and land and Donalsonville Hospital became the not-for-profit corporation it is today.