The Development Authority of Seminole County & Donalsonville in Seminole County was awarded a Vibrant Communities grant from Georgia Council for the Arts, a strategic arm of the Georgia Department of Economic Development, for fiscal year 2023. The grant was applied for by the Donalsonville/Seminole Chamber of Commerce & The Development Authority of Seminole County & Donalsonville staff, Kadie Matthews & Sarah Avery. The Vibrant Communities Grant supports a variety of arts programming opportunities throughout the state. As part of this year's Vibrant Communities awards, 44 entities in 38 counties will receive almost $200,000 in funding.
"Rarely has arts funding been more needed than it is today, so Georgia Council for the Arts is particularly grateful for the support that the Georgia General Assembly is providing for our arts communities to help them carry out their mission," said Georgia Council for the Arts Director Tina Lilly. "We hear firsthand about what this assistance can mean to an organization and a community, and we're pleased to know that it will touch the lives of so many Georgians."
Georgia Council for the Arts received applications from schools, libraries, cities, historical societies, community theatres, Boys & Girls Clubs, and arts and other related organizations from across the state.
The project for which the grant was awarded is for 2 murals to be painted onto the historic Hartzog Pharmacy building that is located in Downtown Donalsonville on 111 E. 2nd Street. To attract tourists to our downtown area, and provide a vibrant backdrop for photo opportunities, the project would first start with a larger, postcard style mural spelling out the town name Donalsonville. Inside the lettering of this mural would be images that reflect the history, local culture and quality of life of the small town of Donalsonville, Georgia.
The second, smaller mural would feature a vintage style advertisement for Seminole Hartzog Pharmacy's original namesake, Seminole Drug Co. with its original logo. Pictured are the mural concepts in which the grant was applied for. Final mural designs may change slightly.
Color the World Bright is the artist group that will be involved in the mural project and is led by Professor Joseph Norman of the UGA Lamar Dodd School of Art and Katie E. Brannen, Project Manager. The crew is made up of students from the Lamar Dodd School of Art. We feel that each mural we are working to have painted would positively impact not only the look of our small-town community, but it will bring in tourists to our downtown area.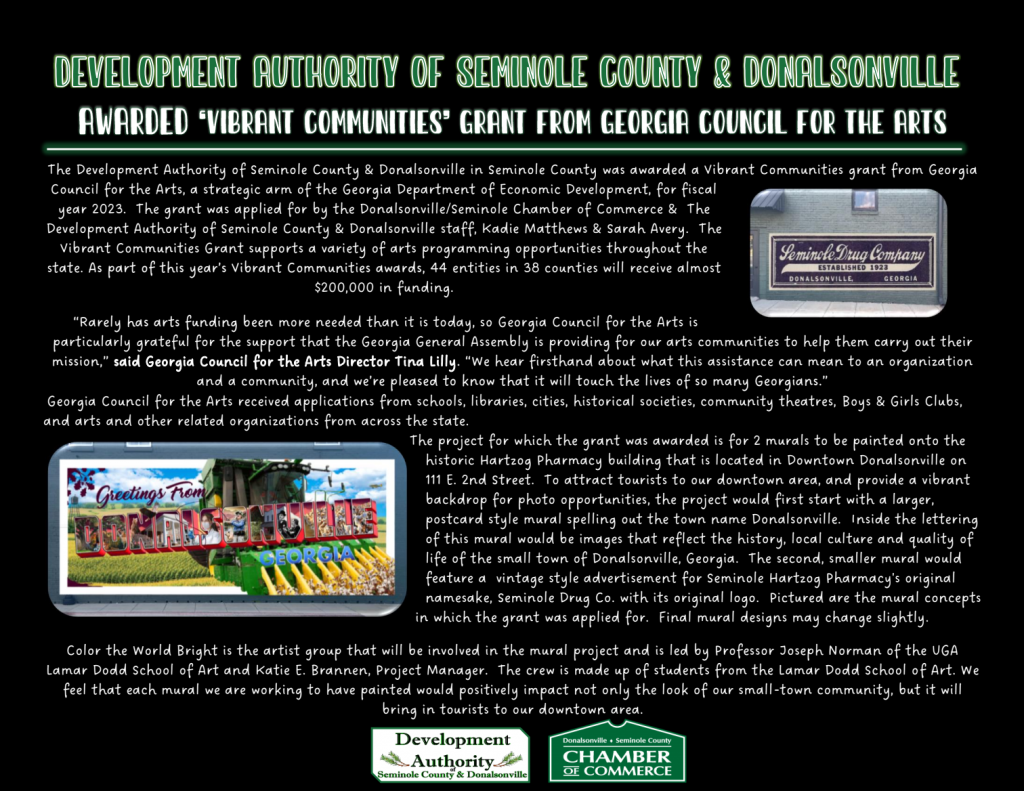 Last modified: October 26, 2022