Good Morning all!
Due to the potential weather conditions tomorrow, Friday, and possibly Saturday, we are having to reschedule the 2022 Boots & Roots Rodeo. Super wet ground & possibly stormy conditions make having the event this weekend too much of a risk for the volunteers, animals, and all involved. Mark your calendars, the new date will be April 29th-30th, 2022. We hope to see you all there in April!
The Donalsonville-Seminole County Chamber of Commerce presents the Chamber of Commerce Boots & Roots Rodeo, Friday and Saturday nights, April 29-30, 2022 at Industrial Park East, 2841 Ash Crossing Road, in Donalsonville, GA.  Gates open at 6 pm and the rodeo begins at 7:30 pm.  Tickets are $15.  Children between ages 6-12 $10, under age 5 gets in free.  Tickets may be purchased in Donalsonville at the Chamber of Commerce; Donalsonville News, Southern Wind Farm Supply, Lake Seminole Outdoors, and all Donalsonville banks or by calling 229-524-2588. 
The Boots and Roots Rodeo is a National Pro Rodeo Association sanctioned event and the chamber has contracted with TV rodeo celebrity and ten-time world rodeo champion Justin Thigpen of T-T Rodeo Company that will feature Calf Roping, Steer Wrestling. Saddle Bronc Riding, Barrel Racing. Team Roping, Bull Riding, Bareback Riding, Calf Scramble, Cowgirl Breakaway Roping, Diamond Dash, and Clowns.
GOLD Level Sponsors: LMC and SunSouth LLC.
You will want to come out early to have supper – there will be food vendors serving Barbecue, Hamburgers,  Turkey Legs, Pork Skins, and a whole lot more.  Also, there will be bounce houses, train, and a mechanical bull for the kids to enjoy. We will also have new 2022 Rodeo t-shirts for sale in two color options, $15 for short sleeve, and $20 for long sleeve.
Named as a salute to Seminole County's farmers and agri-businesses, a percentage of the profits from the two-day rodeo event will be donated to the youth of this community – the Seminole County Green Machine Band, the 4-H Club, Friendship House, Seminole County Boy and Girl Scouts and the establishment of a Seminole County Agricultural scholarship for Seminole County High School.
So make your plans to kick up your heels and enjoy a first class rodeo in Donalsonville, GA.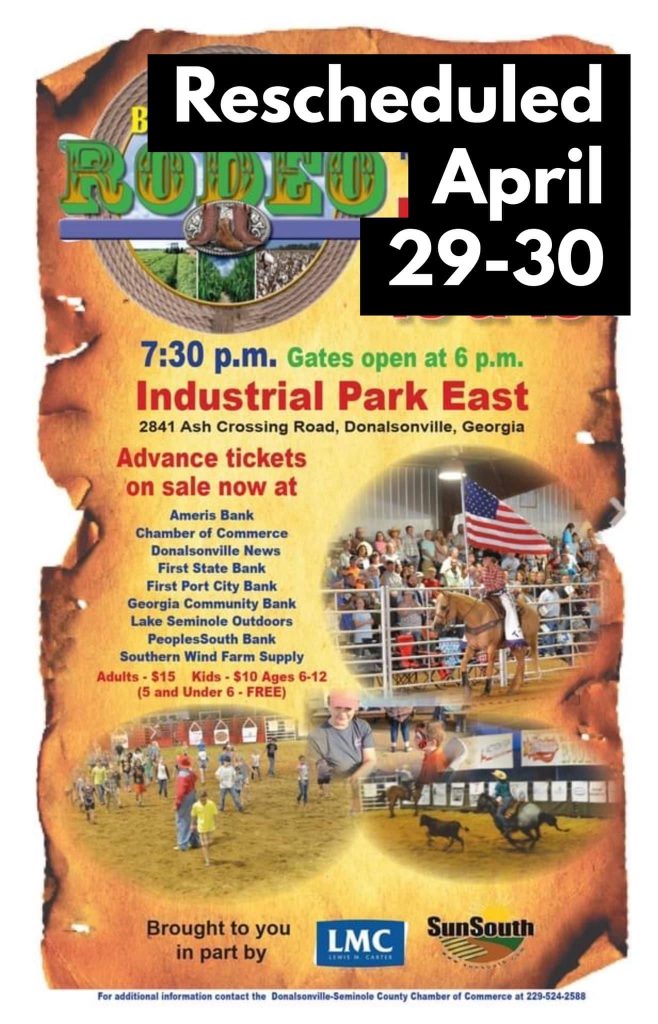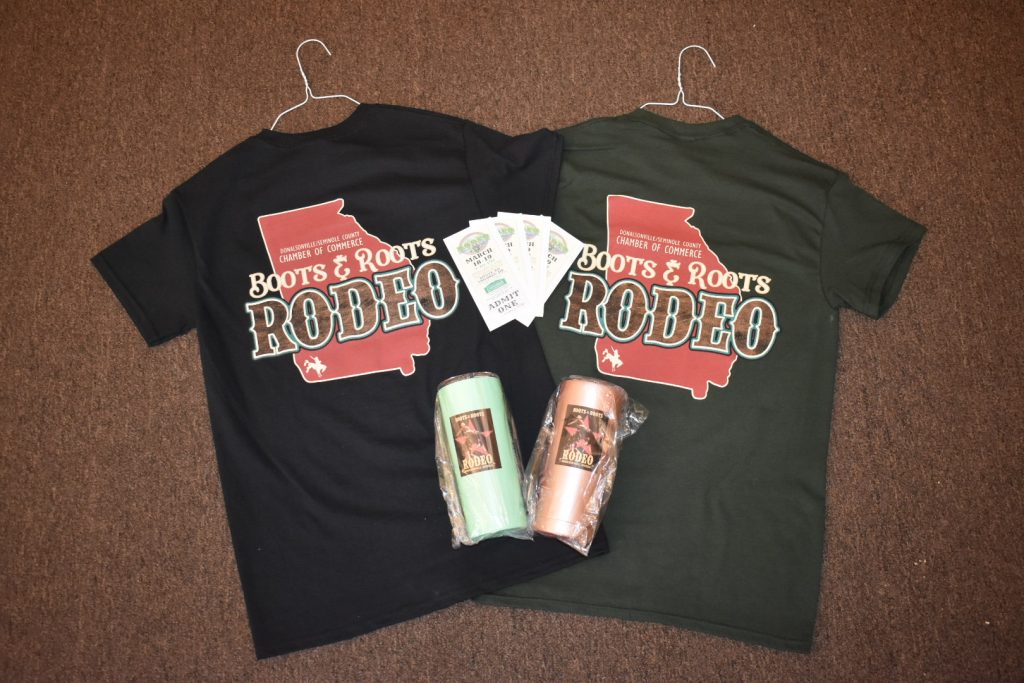 Last modified: March 15, 2022