Good Morning everyone!
Today is June 1st, which means Father's Day is just around the corner! For the month of June, our weekly Chamber Business spotlight will feature TWO businesses of the week. The businesses featured this month will be the perfect locations to pick up the perfect gift for all the special fathers & grandfathers out there!
The first Business Spotlight for this week is Seminole Building Materials! You will be sure to find the perfect gift for any dad, No matter their personalities. Some gift ideas pictured are a table top griddle, flashlights, wood & power tools for projects, and so much more!
Seminole Building Materials is open Monday – Friday 7:30 am to 5:30 pm, and 8 am – 12 pm on Saturday. Call Michael at (229) 524-1004 today and he will be sure to help you out!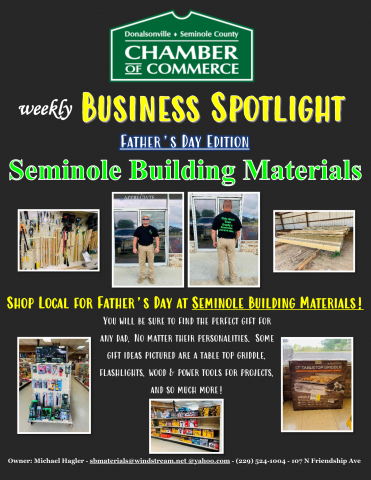 Last modified: June 1, 2020