Happy Monday everyone!
We are kicking this Monday off with our newest
  CHAMBER WEEKLY BUSINESS SPOTLIGHT:
featuring Davis Jewelers! Here you will find items such as jewelry, drink-ware, Woodwick candles, and so much more! Whether you need a fine piece of jewelry for that special someone, or a birthday gift for a family member, Raymond at Davis Jewelers will be sure to help you out!
Store hours are Monday – Friday 10:00 am – 5:00 pm, and 10:00 am – 12:00 pm on Saturday. Call Raymond today at 229-524-2244 or e-mail at rcw072452@yahoo.com and he will be glad to help you!!
Remember to support Seminole County's businesses and #shoplocal!!!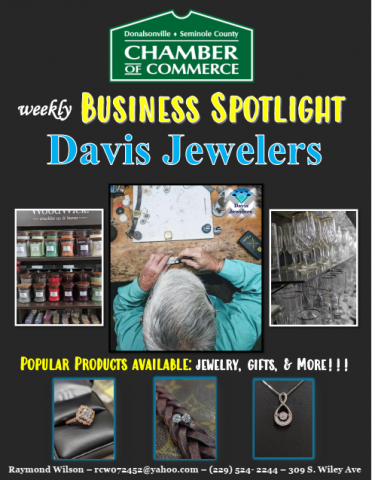 Last modified: May 18, 2020