Good Afternoon!
This week the Chamber of Commerce "Spotlights" Gene Cook & Associates, Inc. This week, the Chamber spotlight features Gene Cook & Associates. In 1984-1985 and a few years thereafter, the farm economy of SW Georgia went through some tough times, most called it the worse credit crisis since the 1920's depression.
After spending nearly 20 years with the Farm Credit System, Gene Cook also fell victim of this farm credit crisis. After leaving Farm Credit, in the fall of 1985, Gene, with the help of his wife Gail & family, opened up an office in Donalsonville, and began a 35-year career in the farm real estate management and appraisal business. During this time Gene also became associated with Clarke Realty, and worked with J.B. Clarke before receiving his real estate broker's license in 1996. Gene also was one of the first to obtain the Georgia General Certified Appraisal license. Over time, with the help of His son Scott, the Business expanded to include farm management services for English Farms LLC, and John Hancock Insurance Company. Gene also worked as farm loan originator for area farmers, with Rabo Agri Finance, Georgia Development Authority, Equitable Insurance Company, and Southwest Georgia Farm Credit.
During this time in addition to the real estate business, Gene began a grain merchandising business associated with Grain Mart Inc, a large grain Brokerage firm out of Alabaster, AL. After working with Grain Mart for some 10 years, the company was incorporated under the name Gene Cook & Associates, Inc., and they became a GA licensed and bonded grain merchant.
Gene is also a Florida Real Estate Broker. Lisa Cook Spooner joined the firm in 2004, and her husband Mark Spooner joined in the family operation in 2011. Lisa is now the CFO, and Mark is the Corporate Secretary. Under Mark's guidance, the company has grown to handle over 6 million bushels of grain annually. Mark Spooner is the go-to guy in grain merchandising in the SW section of Georgia.
Gail retired in 2008, and sadly was a victim of the coronavirus in 2020. The company, now in its 36th year of continuous operation, has a total of 6 employees: Gene Cook (Founder/President), Mark Spooner (Corporate Secretary & Grain Merchant), Lisa Spooner (CFO), Martha Bush, (Logistics Coordinator), Kim Kelley (Assistant Grain Merchant), and Sarah McLeod (Appraisal & Farm Management Coordinator).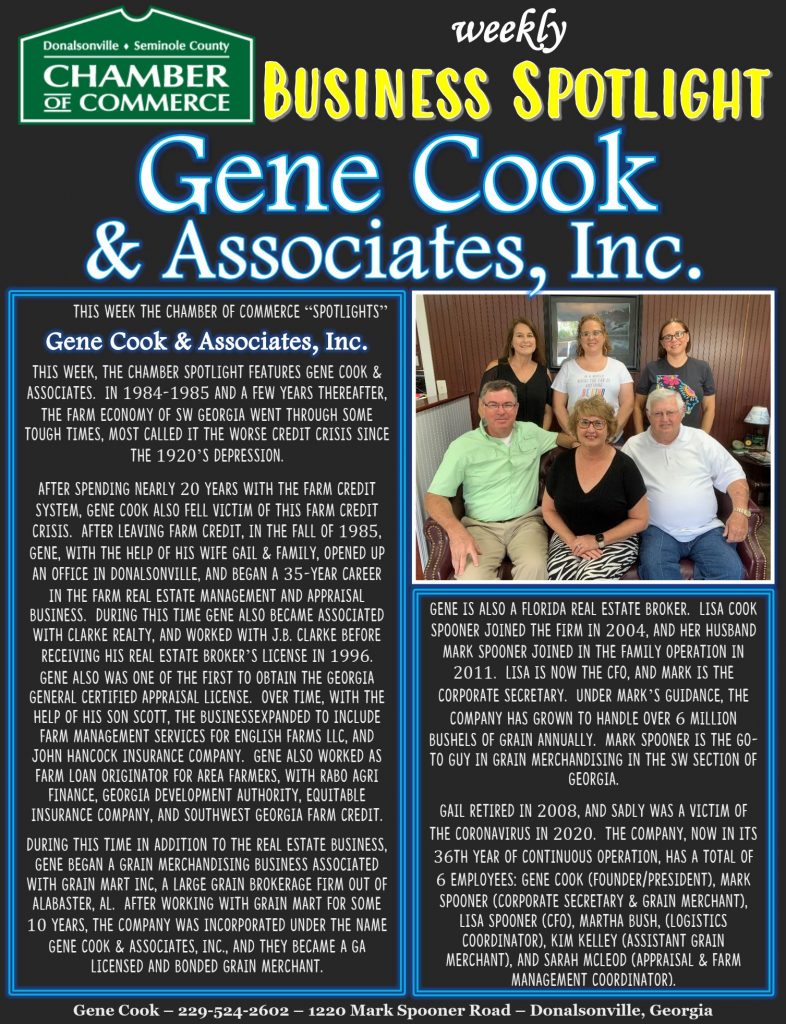 Last modified: August 5, 2021