Good Morning!
This week the Chamber spotlights First Port City Bank. First Port City Bank was founded in 1974 by a group of local business people who believed that the owners of a financial institution should be made up of friends and neighbors within the community. Their roots run deep, and they are grateful for the tremendous support received. While many things have changed over 47 years, operating as a true community bank is one thing that has remained constant. They pride themselves on serving their wonderful community in an effort to help improve the quality of life for everyone.
At First Port City Bank they strive to provide the very best service for each and every customer, and are constantly looking for ways to improve your banking experience and exceed your expectations. They are consistently ranked as one of the top community banks in the nation, and offer many products and services that are typically only offered by larger, regional or national banks.
In 2017 First Port City Bank expanded its banking operations into the Donalsonville market. In November of 2020, Branch Manager – La Toya Fennell (24 Year Banker) and Commercial Loan Officer – Dave Fain (15 Year Banker) join First Port City Bank. In January 2021, First Port City Bank purchased Ponder Enterprises-Webb House Property and started renovations on the historic building. In July of 2021 renovations were completed and the new Donalsonville Branch opened to public.
The new full service branch now offers easier access in and out of the bank, more parking, new drive thru-service, 24 Hour ATM with Check Deposit and also an adjustable screen for those larger work trucks. For more information, visit www.firstportcity.com.
"Putting People First"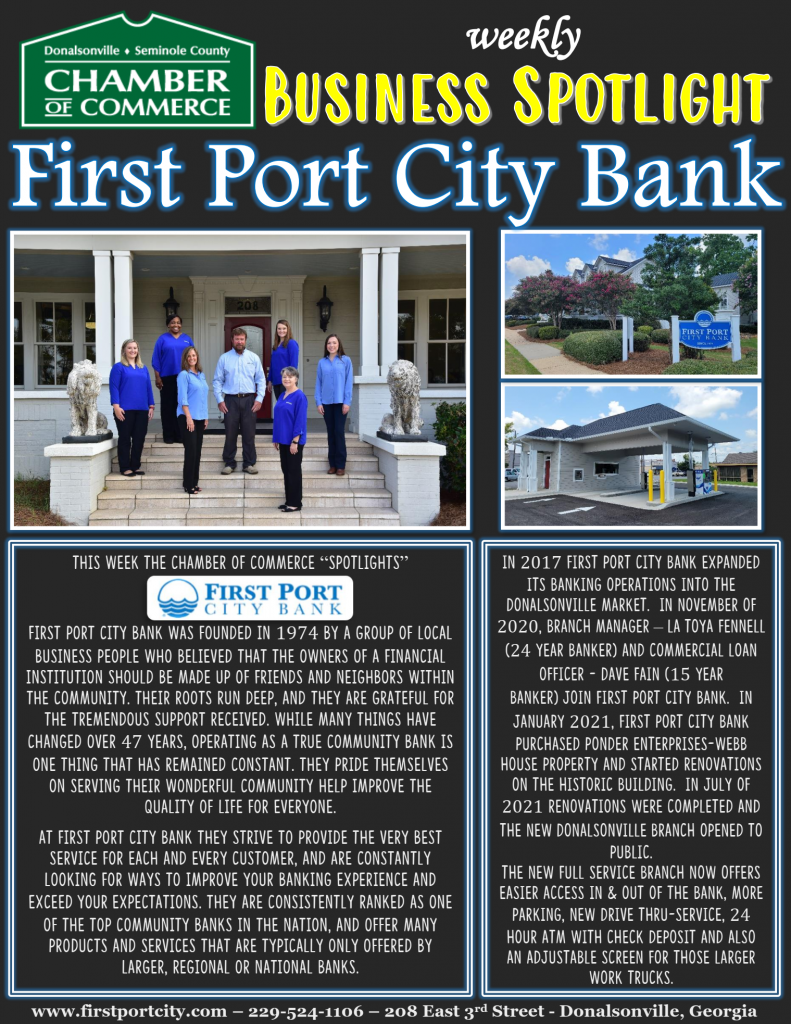 Last modified: September 3, 2021