Hope your New Year is shaping up to be the best one yet.
Please consider the following . . .
The Donalsonville-Seminole County Chamber of Commerce would like to establish a 15 to 25-member chamber ambassador team to assist in the growth of the chamber, extend its reach and increase its exposure throughout the community.
With that said, would you, or someone you may know like to be considered becoming one of those people?
Ambassadors will serve for two years and the only requirements are to attend or participate in at least six chamber activities in a calendar year, and to have conversational knowledge of the chamber, its mission and purpose, and its staff and board members.
(We are asking for participation in at least six activities; however, if you wish you may participate in all chamber activities.)
What is a chamber ambassador?
The short answer to is to help with ribbon cutting and event attendance, membership recruiting and retention, and community engagement.
Ambassadors are public-facing, non-staff members who can provide a businessperson's and/or community resident's perspective to future members. They can also be the ears of your chamber. Sometimes members don't want to tell the chamber staff things about the chamber.
If you would like to become an ambassador or suggest someone who may be interested, call 229-524-2588 or email kadie.chamberofcommerce@gmail.com and get on the list.
Thank you,
2023 Chairman
David Maxwell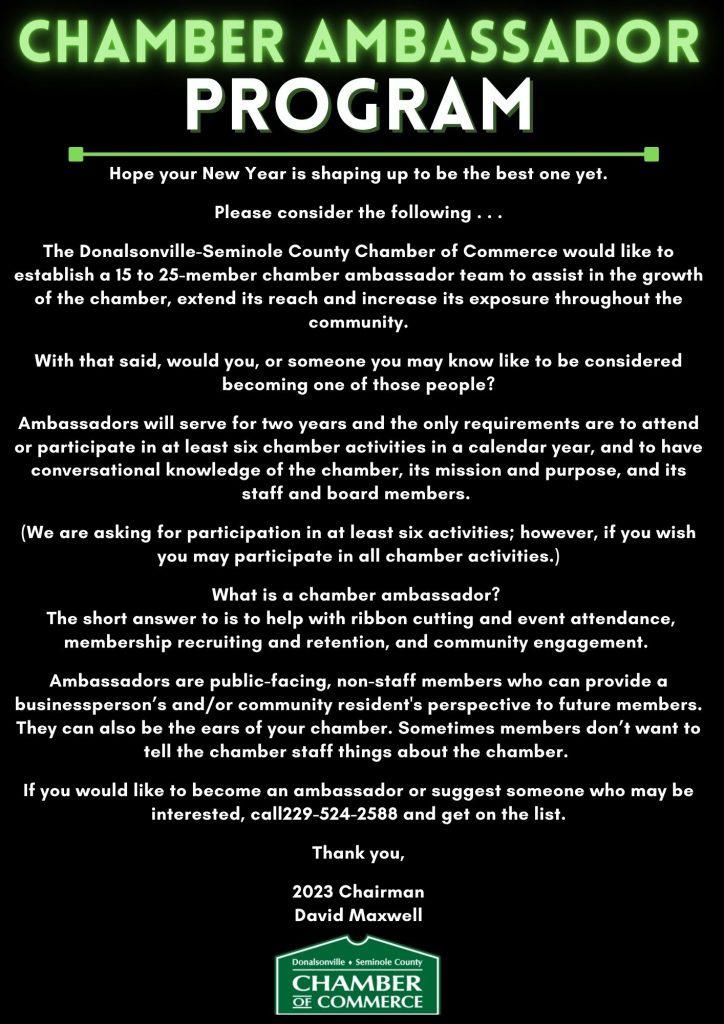 Last modified: February 17, 2023