This week the Chamber Spotlight features GreenPoint Ag. Farming has experienced significant change in recent decades, and GreenPoint Ag is a reflection of that change. In 2020, they were formed when the agronomy operations of Agri-AFC, GreenPoint Ag and Tennessee Farmers Cooperative's wholesale agronomy business were combined.

While they are a new company, roots are deep and date to the 1930s. Over those years they've gone through acquisitions and name changes, and have done what's necessary to best serve members and customers.

While the company is new, the business and members are not. GreenPoint Ag is owned by three cooperatives, Alabama Farmers Cooperative, Tennessee Farmers Cooperative and Winfield United, all of which have a rich legacy of serving farmers and rural communities.

Through all the changes, their business strength has consistently been their people and the relationships they have with customers. Their rich history and the pride of ownership that exists amongst member-owners drives them to remain competitive and provide exceptional service to the ultimate customer, the American Farmer.
The knowledgeable people here at Greenpoint Ag Donalsonville location value their farmer customers. Greenpoint Ag is committed to helping the growers. Agriculture is their passion. Their success is GreenPont Ag's. Farming is a hands-on profession,
Here at the Donalsonville location they have a wide Variety of your agriculture needs, just give them a call and with the help of Seth Johnson (store manager) , Rock Holt  (warehouse manager), Don Jarvis (salesman),Boyd Pepper (salesman) they will be glad to supply you with your needs. They thank you Donalsonville and the surrounding areas for your Business.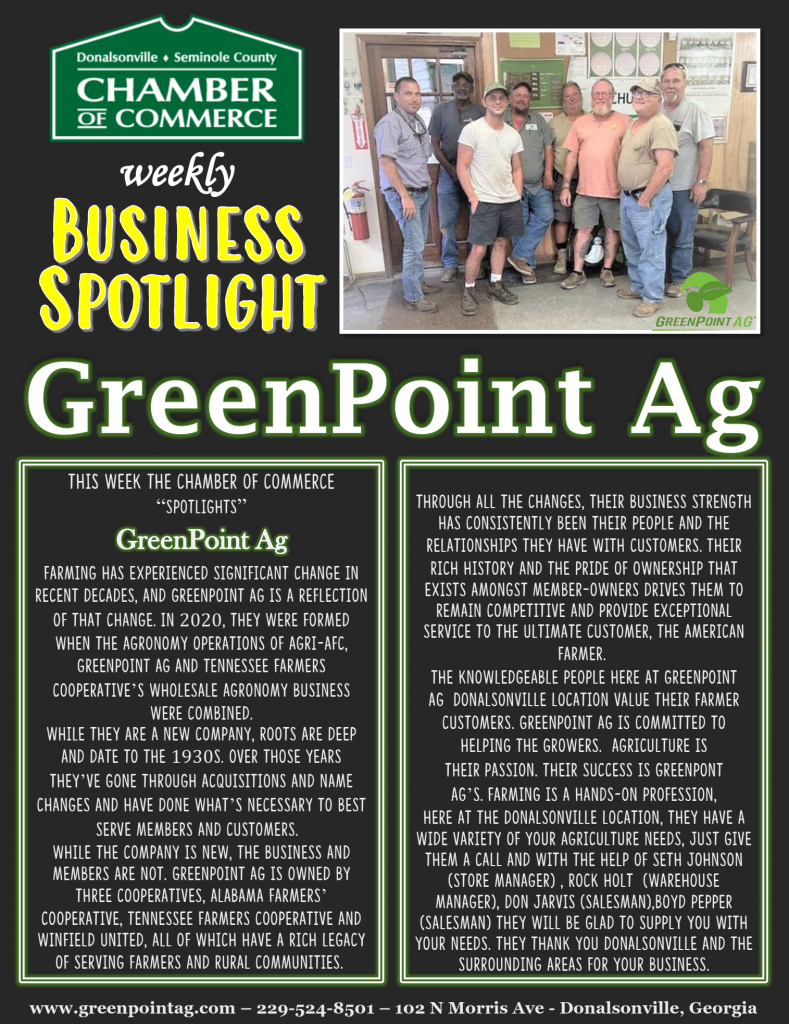 Last modified: September 30, 2021